Especially for you!
2020-04-17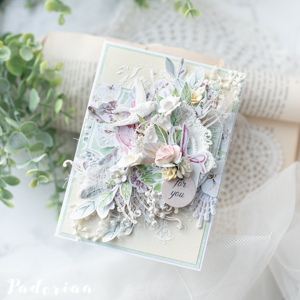 Spring is finally here and the air smells amazing. We hope you love this time of the year as much as we do.
Birds are singing, nature is waking up, days are longer and the sun is shining more and more.

It's a great time to create something new and to bloom out with new ideas.
We have an inspiration with a breath of freshness.
This card can be as well a wedding card or a card made with love for someone special.
Light and at the same time elegant form with a delicacy of pastel colors creates a charming and beautiful whole.

To make such a project you can use scrapbooking
 

papers of your choice, card base, mulberry paper flowers, different kinds of embellishments, sisal, chipboards and laces.

It's good to first think of a composition and to put everything layer by layer, so you have on the end a 3D effect. Of course the best is to use 3D foam cubes.

To create this card the artist used i.a. sweetheart blossom flowers, white dove embellishments, ecru decoration sisal fiber, open roses, chipboard and lace.

We hope we got you inspired — say hello to spring, use the power of the land awaking and project some new cards.

As Claude Monet once said "I must have flowers, always, and always." — we wish you to have them always in your creative projects.